(try to point and click on each image)
Samuel Degrande
CNRS Research Engineer
Scientific Co-Leader of the Spin|3D project,
Technical Director of the PIRVI
Associate Member of the MINT research group
Member of the LIFL's technical staff
LIFL's official information page.
Welcome!
This page is under heavy re-construction.
End of wrk is sheduled for the end of September 2007.
Until then, its content could be very unstable, so, please, come back later.

Spin|3D

project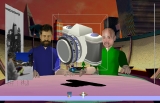 Spin|3D is a synchronous 3D collaborative software platform. It aims at providing a complete software environment to ease the development of collaborative applications.
Target collaborative applications

Digital project review
Support for medical diagnostic
Virtual laboratory work (e-learning)
Network games
Research thematic areas

Collaborative Virtual Environment
Configurable/Adaptable Interface
Computer-Human Interaction
Communication Framework
PIRVI
The PIRVI is a technological facility and a group of research teams offering:
A set of scientific equipments for Virtual Reality
Scientific expertise on Interaction and Images
A framework to construct, manage and carry out R&D projects
MINT Research Group
MINT is a research team of the LIFL / CNRS and of the INRIA Futurs, located in Lille, north of France.
Its activity is focused on "gestural interaction".
Research thematic areas

Gestures captured using held, worn or touched objects or contactless perceptual technologie
Computational representations of these gestures
Methods for characterizing and recognizing them
Transfer functions used for non-isometric object manipulations
Feedback mechanisms, and more particularly haptic ones
Engineering tools to facilitate the implementation of gestural interaction techniques
Evaluation methods to assess their usability
IRCICA/LIFL, CNRS UMR 8022
Parc Scientifique de la Haute Borne
50 avenue Halley
BP 70478 - 59658 Villeneuve d'Ascq, FRANCE
mailto :
phone : +33/0 362 53 1570