Venue, hotels and social program
Have a look to Office de tourisme de Lille
Venue
The conference takes place at: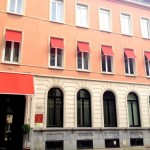 By metro ('Republique Beaux Arts' stop based in the corner of the street).
By bus ('Place de la République' stop).
By car (a public parking Sebastopol 2 minutes by foot and a paying Parking République one minute by foot - 180 places).
By streetcar, an easy access nearby 2 stations: Lille Flandres and Lille Europe (10 minutes by foot or 2 stops by metro).
20 minutes from the airport Lille-Lesquin, motorway A1.
Accommodation
Please note that hotel booking has to be done directly by the participants. We suggest that you book your hotel as soon as possible to ensure low prices and avoid reservation problems.
We encourage participants to rank hotels according to their multiple objectives in terms of costs, distance, etc., and to carefully control check-in and check-out dates and reservation terms.
See below for the map:
Afficher
Restaurants
sur une carte plus grande
There are several hotels around the conference place.
Name
Area
Adress
Comments
All Seasons
Near hôtel de ville and Vieux Lille, à 5 minutes from train stations Lille Flandres and Lille Europe
172 rue de Paris
59000 Lille


Tel:

+33.320300054
from 95€
Brueghel
Near train station Lille Flandres
5 parvis St Maurice
59000 Lille


Tel:

+33.320060669
From 88€
Mister Bed
City center, 5 min. conference place
57 rue de Béthune
59000 Lille


Tel:

+33.320129696
From 40€
Flandre Angleterre
City center near Grand Palais Lille Grand Palais
13 place de la Gare
59000 Lille


Tel:

+33.320060412
From 58€
Le Grand Hotel à Lille
City center near train station
51 rue Faidherbe
59000 Lille


Tel:

+33.320063157
From 85€
Hotel Lille Europe à Lille
Near Lille Europe train station
Avenue Le Corbusier
59777 Lille


Tel:

+33. 328367676
From 76€
Première Classe Lille Centre
Near Vieux Lille
19, place des Régnaux
59000 Lille


Tel:

+33. 328365110
From 45€
Holiday Inn Express Lille Centre
République/Gambetta
75 bis rue Leon Gambetta
59000 Lille


Tel:

+33. 800 907 45
From 77€
BEST WESTERN PREMIER Why Hotel
République/Rihour
7 bis Square Morisson
59000 Lille


Tel:

+33. 800 941 421
From 77€
The registration fee includes:
Conference attendance, pre-and post-proceedings, coffee-breaks;
Lunches near the conference center;
Conference Gala Dinner.
Coffee and refreshments will be available during conference breaks to encourage informal interactions between the participants.
How to reach Lille
By Plane:
Lille-Lesquin International Airport is 15 minutes from the City Centre, the business district and the two railway stations.
Over 70 national and international destinations. Direct flights with Air France, Aigle Azur, Air Algérie, Easyjet, HOP!, Ryanair, Tunisair Transavia, twinjet, Volotea, Vueling and from Ajaccio, Bastia, Biarritz, Bordeaux, Lyon, Marseille, Monptellier, Mulhouse, Nantes, Nice, Strasbourg and Toulouse. International direct flights to/from Barcelone, Genève, Alger, Oran, Tunis, Porto, Rome, Venise, Agadir, Marrakech et Oujda. A shuttle-bus service connects the airport and the city center (stop near the commercial centre: Euralille) Journey Time: 20 mn More information on:
Lille airport
By Train:
Lille has two train stations, they are 400 metres apart and situated in the city centre:
Lille Flandres: regional trains and direct TGV to Paris (58 mn).
Lille Europe: Eurostar and direct TGV to/from London (1h20), CDG Airport (50mn), Brussels (32 mn), Lyon (2h55), Strasbourg (3h18), Marseille (4h42), Bordeaux (5h09)…
By Car:
Lille Metropole is at the crossroads of France's densest freeway network. More than 500 km of motorway connect great European cities.
1hr from Bruxelles (E429/E17)
2hrs from Paris ( EA1 /E42)
3hrs from Luxembourg (A4/E17)
3hrs from Amsterdam (E17)
5hr45 from Francfort ( E42)
From the UK: Eurotunnel from Folkestone to Calais, then to Lille by the motorway